The newest Viridian Capital Advisors (VCA) credit summary and ranking report has been released. The firm provides a comprehensive data table highlighting several useful metrics of note, including liquidity, leverage and profitability rank. Among the most notable metrics provided is credit rank, which is a useful snapshot on U.S. cannabis operator overall credit scores. On this particular report, top nod goes to Green Thumb Industries, followed by Planet 13 Holdings and MariMed Inc.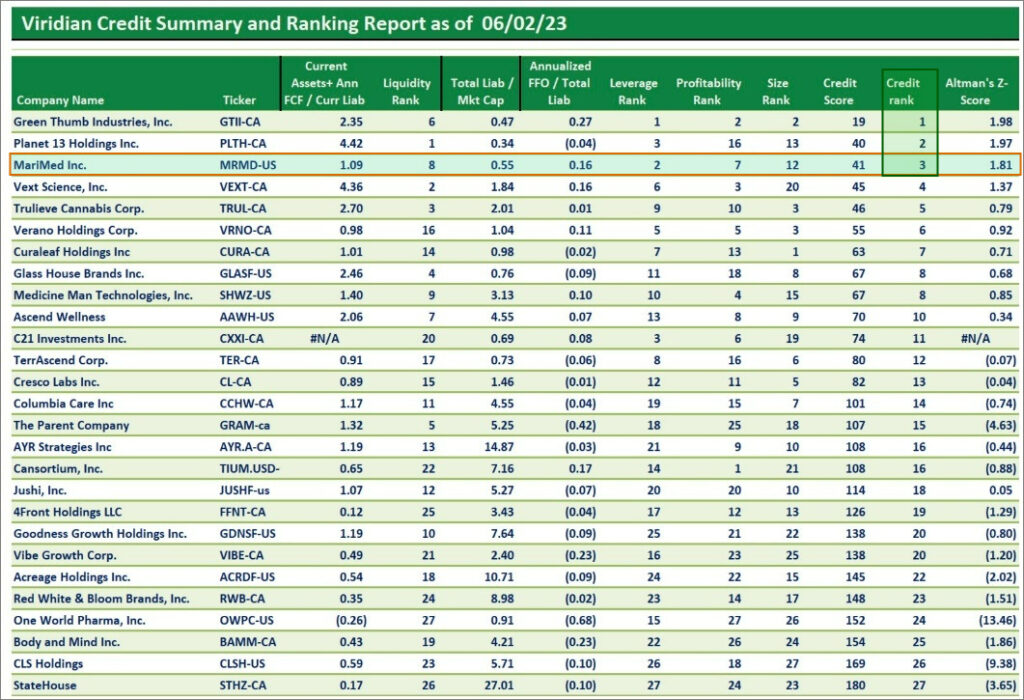 When it comes to public emerging companies, investors place significant importance on credit scores and ranks for various reasons. These metrics provide crucial insights into a company's creditworthiness and financial health, allowing investors to make informed decisions while assessing potential risks.
Foremost, credit scores and rank serve as objective measures for evaluating a company's creditworthiness and financial stability. Investors heavily rely on these metrics to gauge the level of risk associated with investing in a particular company. A higher credit score indicates lower credit risk, making the company more appealing to investors seeking stable investments.
Many investors consider credit scores and ranks as valuable tools for making well-informed investment decisions, as they infer debt ratios that are under control. Thus, a favorable credit score signifies a company's robust financial foundation, reducing the likelihood of defaulting on its debt obligations. By assessing these metrics, investors gain insight into the company's ability to meet its financial commitments, thereby instilling investor confidence.
Credit scores and ranks play a significant role in shaping market perception and influencing investor sentiment towards a company. A higher credit score enhances a company's reputation, signaling to investors that it is well-managed and financially stable. This positive perception can attract more investors and potentially lead to improved access to capital and lower borrowing costs for the company, providing a competitive advantage in the market.
According to the Viridian Credit Tracker, the evaluation process involves the use of eleven distinct credit ratios specifically designed for this purpose.
Despite the current significant capital stress experienced by the industry as a whole, Viridian stated that "surprisingly, the median free cash flow adjusted current ratio for the group is 1.07x," indicating that more than half of the companies in the group should be able to manage without requiring significant financing within the next year.
As one of the few consistently free cash flow positive multi-state operators around, Green Thumb Industries and MariMed Inc.'s position at the top of future VCA reports seems assured for the intermediate future.