A Madison-based medical technology company is partnering with hundreds of pharmacies to offer customers an array of vaccinations, tests and other medical care at neighborhood drug stores — without needing an appointment at a clinic or hospital.
Kevin Houlihan and his team launched the company ImageMover 10 years ago with the initial focus on imaging software, but they ventured into medical information software when the team saw the need to simplify the workflow of gathering and storing patient medical data at points of service such as pharmacies.
Houlihan found inspiration to expand the software during the COVID-19 pandemic when the larger field of medical care saw a significant shift to vaccine administration at pharmacies as an alternative to doctor's offices, clinics or hospitals.
As an example of the ways in which services at pharmacies have changed, Houlihan pointed to expanded regulations that allowed every state-licensed pharmacist in the country to write Paxlovid prescriptions for people who tested positive for COVID-19.
"There were rules around allowing a pharmacist to do that and you had to capture and confirm a bunch of data, but all of a sudden every pharmacist in the country was allowed to provide this new service in a way that was not allowed before," Houlihan said. "As you think about that and compare it to these other services, you think 'Well, surely, if they can do that, they should be allowed to provide these other services in the community as well.'"
The shifting of this perspective allowed an increase in accessibility of medical services when it might have been more difficult for patients to schedule an appointment or establish care in a traditional clinical setting.
"I personally am a person who hadn't gotten services at a pharmacy before the pandemic, and that experience was eye-opening for me," Houlihan said.
While pharmacies have been capable of administering medical services like the flu test in the past, the paperwork involved in providing the test and collecting the data was complex and tedious, Houlihan said he heard from pharmacies.
The software Houlihan's company provides offers a simplified, computerized workflow to handle test administration and patient medical data. A process of patient information gathering and care documentation that used to require stacks of paperwork is now condensed onto an iPad.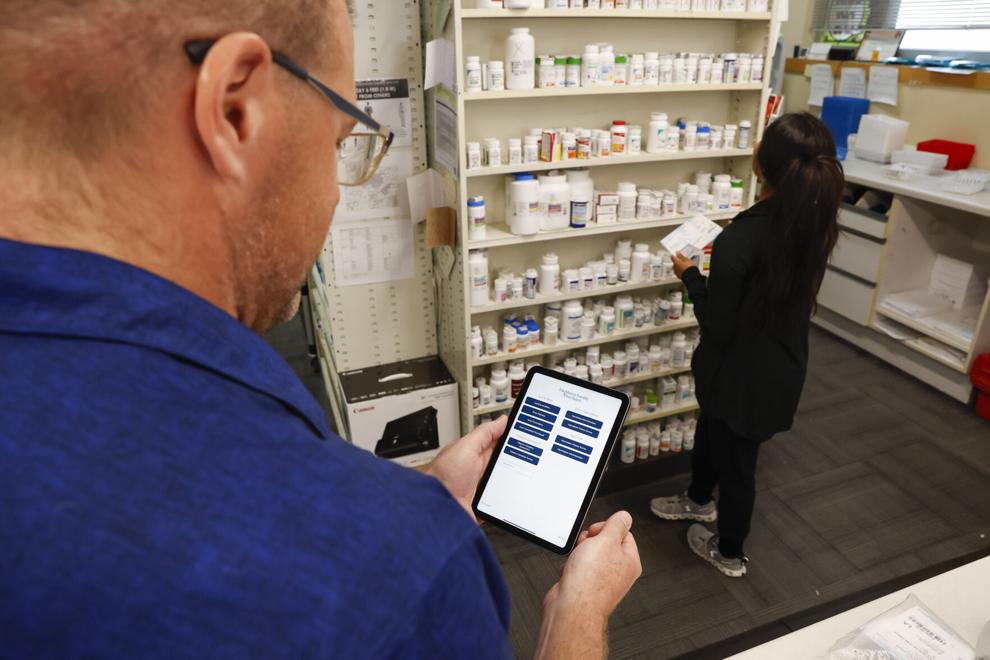 Fitchburg pharmacy among 800 clients
Around 800 pharmacies nationwide are using Houlihan's software to improve patient information workflow.
Thad Schumacher is the owner of Fitchburg Family Pharmacy, a business just outside of Madison that's participating in the partnership. His pharmacy began offering testing and vaccines related to the pandemic, and while those specific needs have progressively decreased, Schumacher said he wanted to keep the momentum going to continue to serve customers in this new way.
"We were kind of left with an infrastructure of people and resources, but what do we do with them," Schumacher said. "So the next step was to say 'How can we continue to do these kinds of services that are not tied to a prescription?'"
That idea led to the partnership with Houlihan.
Expanded services available at Schumacher's pharmacy include testing for an increased variety of illnesses including strep throat and Lyme disease, as well as providing other services including long-acting injections for psychiatric patients that require some documentation of medication to be provided to a doctor.
"So what we did with ImageMovers is we digitized the process, which streamlines it and makes it easier for our staff to complete the interaction," Schumacher said.
Since Schumacher and his staff were saving time in the information-gathering and documentation portion of the process, increasing the type of care available at his pharmacy seemed like a logical use of the additional capacity, he said.
"Our service model has basically been kind of a mission of how do we place our pharmacy in a position that is there to serve the people who are underserved or the patients that are falling through the cracks," Schumacher said.
'Meeting them in their neighborhood'
Houlihan and Schumacher both said that one of the most significant benefits of this collaboration is the ability to provide care to people who have a hard time getting certain medical services elsewhere.
"(Pharmacies) are really the most accessible care setting in a lot of ways. Sometimes they have much longer hours that they're open, versus a primary care provider," Houlihan said. "And they're closer."
More than 90% of Americans live within 5 miles of a pharmacy, according to the Centers for Disease Control and Prevention. Meanwhile, nearly 1 in 5 Americans lives 10 miles or farther from their nearest hospital, according to the Pew Research Center, a nonpartisan think tank that measures trends affecting the general public.
Proximity and increased availability are key factors in providing increased care to residents who struggle to access health care.
Sara Camacho, a supervisor specializing in access to care with Public Health Madison & Dane County, agrees.
"Members of underserved communities often face barriers to accessing traditional health care due to job schedules and lack of paid time off work, childcare and transportation," Camacho said. "Meeting them in their neighborhood or other nearby locations and maintaining that presence to establish trust is helpful in reaching these communities and providing them with care."
Houlihan said he hopes to continue to build momentum with local partnerships and expand the number of pharmacies, both locally and on a national level, where residents can access care.
"We're excited to see the potential and opportunity in really changing the way that care can be accessed and delivered," he said.